To follow the lecture play the audio clips.
Feel free to write your responses to my questions in the comments below, in addition to any questions or insights you have. I'd love to turn this lecture into a conversation!
1. Introduction
Music Excerpt 1 – Overture
2. What is it?
Music Excerpt 2 – Overture detail
3. Setting up the drama; Act 1 scene 1
Music Excerpt 3, text and translation (ignore the video for now, follow the text!)
lasciala-indegno-text

ah-socorso-text

4. Facing Death
Music Excerpt 4 – Commendatore's death repeated
5. Character
Music Excerpt 5 – Three Faces of Giovanni
6. Emotion
Music Excerpt 6, text and translation – Donna Elvira (mostly ignore the video…)
(The singer Lorraine Hunt-Lieberson is amazing but the staging in this video is not the best).
mi-tradi

7. Coloratura
Music Excerpt 7 – Coloratura repeated
8. Meaning
Music Excerpt 8 – Overture detail
9. Meaning cont.
Music Excerpt 9, text and translation – Act II Finale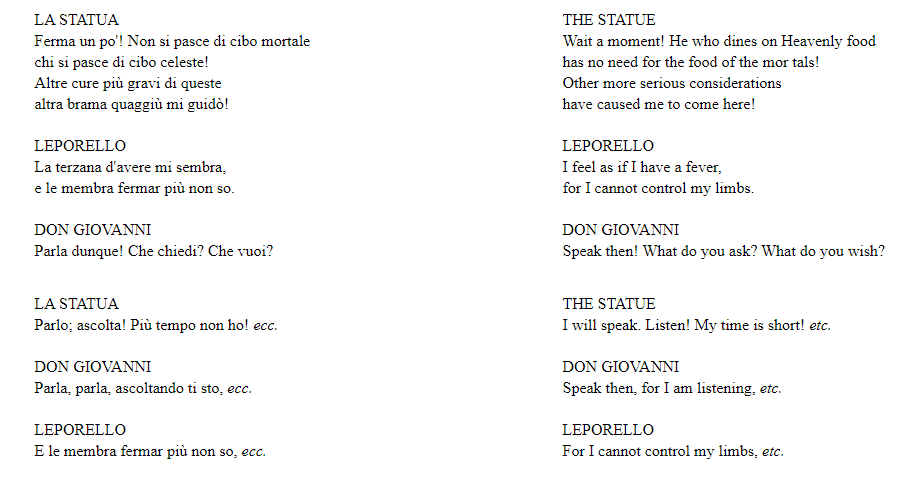 10. Repetition
Music Excerpt 10 – Overture and Finale compared
Music Excerpt 11 – Parlo, Ascolta repeated
11. Final Clash
Music Excerpt 12 – Pentiti Scellerato (now you can watch the video!)
12. Final Words
13. Thank you!
Your feedback about this learning experience is extremely valuable.
Please take a few minutes to fill out this feedback form. Thank you!
Posted in Fall '20 - Imagination and Distributed Learning |